Publications
Professor Bacon has contributed to the following books.  In his writing he explores ideas and innovative concepts for the way in which facility owners could leverage structured information and sophisticated technologies for improving the performance of the built environment.
Virtual Futures for Design, Construction & Procurement.

In a chapter titled: Knowledge Management Systems of the Future,Bacon discusses how improved knowledge from In-use facility operations can improve the briefing process. He develops his ideas based on his experiences as Head of Process and Technology at the airport operator BAA plc. where knowledge capture was critical to the continuous improvement of facility performance.
International Research Symposium.

In this symposium, Bacon explains the ideas behind his design for a sustainability management system. He explains how facility performance data can be harvested, audited and processed for enterprise reporting.
Constructing the Future nD Modelling.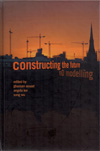 In his chapter on the use of Building Information Modelling (BIM), Bacon discusses the need for structured requirements information to support the briefing process. He argues that without structured data, validation of design with the brief through the BIM cannot be effectively achieved.
Collaborative Construction Information Management.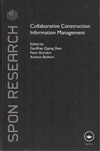 In his chapter titled: Managing the Collaborative Process, Bacon argues that without an effective collaborative process, the efficiency opportunities for using BIM cannot be realised.  Through his own work on the design of enterprise management systems, Bacon provides concrete examples of how a collaborative process can produce substantial efficiency improvements.