The Process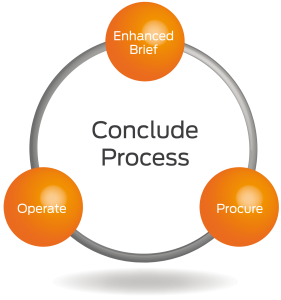 The Conclude Methodology contains three primary components:
1) Enhanced Briefing Process
This includes how the facility is to be used, which has much importance as to what functions are required in the facility.
The enhanced brief will establish the output success measures for the facility. A key success measure must be the energy consumption of the facility – not a qualitative BREEAM or LEED rating but, at the very least, a target of energy performance
2) Integrated Procurement
The common misconception is that Opex can only reduced through an increase in Capex. We have proven this not to be a safe assumption. However,  by informing desision making we can clearly indentify how long term Opex can be significantly increased by "value engineering" which may only provide a short term improvement in Capex.
3) Operation
Today's sophisticated building systems are so specialised that highly complex commissioning configurations are the order of the day; the conventional "O+M manual" is wholly inadequate for the purpose of the on-going performance optimisation.
The Conclude Consultancy has confronted these challenges and in response has developed a radical new approach to facility management which ensures Facility Managers have the depth of understanding necessary to operate the building in accordance with the design specification.
If you wish to explore our unique approach in more detail please see our Process Infographic opposite.
To discover more please download our white paper: "Strategies for design, procurement and operation of complex facilities to achieve a low carbon environment"